Subsequent campaigns
Subsequent introductions will be country-driven and coordinated under WHO leadership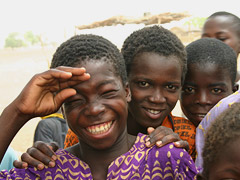 The goal is to protect all children who are at-risk of contracting meningitis A.
Introduction in other core countries, bordering countries, or at-risk countries will be based on a review of the priority criteria by the International Coordinating Group (ICG) on Vaccine Provision for Epidemic Meningitis Control, the entity that is currently managing emergency polysaccharide vaccine stockpiles.
Specifically, a process has been developed under WHO leadership that starts with an AFRO/GAVI subcommittee review of country proposals and a submission of their recommendations to ICG, where final decisions on country selection will be made. The process is a country-driven approach recognizing the epidemiologic context and the ability of the country to mount vaccination campaigns.
The table below shows the WHO proposed rollout plan for MenAfriVac® in the countries of the African meningitis belt after the initial introduction of the vaccine in Burkina Faso, Mali, and Niger in 2010. Approximately 315 million people are targeted for vaccination across the meningitis belt, with the entire population—an estimated 450 million—protected through the broader community protection resulting from reduced transmission of the disease.
Photo: Monique Berlier.