Clinical trial: PsA-TT-003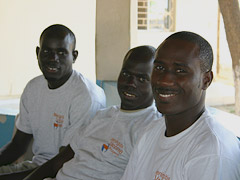 Health workers at the IRD field station in Senegal.
This Phase 2/3 clinical trial was held in Mali, Senegal, and the Gambia. The study compared the immunogenicity and long-term persistence of antibodies of a single dose of the meningococcal A conjugate (PsA-TT) vaccine with that of the meningococcal A component of the polysaccharide ACWY vaccine. The study also assessed the safety of the vaccine. A total of 909 subjects were enrolled.
Study title: A Phase II/III, observer-blind, randomized, active controlled study to compare the safety and immunogenicity of a meningococcal A conjugate vaccine (PsA-TT) with meningococcal ACWY polysaccharide vaccine administered in healthy subjects 2 to 29 years of age.
Primary end point: Immunogenicity
Secondary end point: Safety
Study results: Results show that the vaccine is safe and highly immunogenic.
Vaccine manufacturer: Serum Institute of India, Ltd.
Development stage: Phase 2/3
Countries: Mali, Senegal, and the Gambia
Clinical sites: (1) Center for Vaccine Development-Mali (CVD-Mali), Bamako, Mali; (2) Toucar Health Center/Institut de Recherche pour le Développement (IRD) Field Station of Niakhar, Senegal; (3) Medical Research Council (MRC) Laboratories, Basse, the Gambia
Principal investigators: (1) Samba Sow, MD; (2) Aldiouma Diallo, MD; (3)
Brown Okoko, MD, and Adebayo Akinsola, MD
Number of subjects: 909 subjects, aged between 2 and 29 years
Start date: 29 August 2007
Date of last subject last visit: 20 April 2009
Status: Completed
International Standard Randomized Controlled Trial Number: ISRCTN87739946
Publication(s)
Marchetti E, Mazarin-Diop V, Chaumont J, et al. Conducting vaccine clinical trials in sub-Saharan Africa: operational challenges and lessons learned from the Meningitis Vaccine Project. Vaccine. 2012;30(48):6859–6863.
Sow S, Okoko B, Diallo A, et al. Immunogenicity and safety of a meningococcal A conjugate vaccine in Africans. New England Journal of Medicine. 2011; 364:2293–2304.
Selected poster(s) and abstract(s)
Diallo A, Sow S, Okoko B, et al. Safety and immunogenicity of a new meningococcal A conjugate vaccine (MenAfriVac™) in a healthy African population 2–29 years of age (pdf 4.83 mb). Presented at: 16th International Pathogenic Neisseria Conference, 7–12 September 2008; Rotterdam, the Netherlands. P134 (pdf 4.21 mb).
Photo: Julie Chaumont.