Clinical trial: PsA-TT-005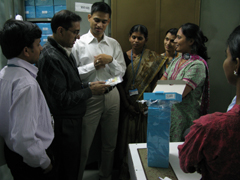 Dr. Hirve examines a laboratory kit for sample collection during the initiation visit at Shirdi Sai Baba Hospital in Vadu.
This Phase 3 clinical trial in India evaluated the consistency of the safety and immunogenicity of three consecutively produced lots of meningococcal A conjugate (PsA-TT) vaccine when administered as a single dose in children 5 to 10 years of age. The trial also compared the immunogenicity and safety of the PsA-TT vaccine with those of a meningococcal polysaccharide vaccine. A total of 830 healthy children were enrolled.
Study title: A Phase III, double-blind, randomized, active controlled study to evaluate the safety and consistency of immunogenicity of three consecutive lots of a meningococcal A conjugate vaccine administered as a single dose to healthy children at 5–10 years of age.
Primary end point: Immunogenicity
Secondary end point: Safety
Study results: Preliminary data show that the vaccine is safe and highly immunogenic.
Vaccine manufacturer: Serum Institute of India, Ltd.
Development stage: Phase 3
Countries: India
Clinical site: Shirdi Sai Baba Hospital, Vadu Budruk, Taluka Shirur, Pune, India
Principal investigators: Siddhivinayak Hirve, MD
Number of subjects: 830 subjects, aged between 5 and 10 years
Start date: 9 January 2010
End date: Closeout visit held in November 2010
Status: Completed
International Clinical Trials Registry Platform: CTRI/2009/091/000368
Photo: Lionel Martellet.