Human subject protection
Ethical and scientific review ensures that the research is sound and that participants' well-being is protected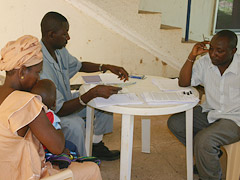 Parents or guardians of children participating in clinical trials learn about the trial and sign a consent form.
All MVP trials go through a process of review to ensure that the trial is scientifically sound and that the safety and privacy of participants are protected.
Scientific and ethical review
A process of peer review ensures that trials are powered and appropriately designed to answer the questions that have been set out. Clinical documents are also reviewed by members of the expert panel and the project advisory group. Adherence to ethical standards is ensured by Western Institutional Review Board (the independent ethics committee that provides ethical review of vaccine clinical studies sponsored or supported by PATH and Serum Institute of India Ltd), by the WHO Research Ethics Review Committee (WHO-ERC), and by the local ethics committees in the countries where trials take place. In addition, MVP clinical trials follow applicable country-specific laws and regulations and are subject to appropriate regulatory approval before study initiation. All clinical trials are registered at a WHO-recognized international register.
Data Safety Monitoring Board (DSMB)
Each clinical study has a Data Safety Monitoring Board (DSMB) composed of at least three experts. At least two members are medically qualified and have expertise in the field of meningococcal disease. A third voting member of the DSMB is a community member from a country hosting a clinical trial and has strong expertise in the study community's values, as well as in clinical trial procedures and ethics, that enables him/her to provide insights into cultural sensitivities.
DSMB members thoroughly assess all safety-related information during the course of the study and provide the sponsors (PATH and SIIL) with an overall safety review of the study. DSMB members pay particular attention to the protection of human subjects, and they regularly evaluate reports on adverse events and serious adverse events. DSMB members can also conduct emergency reviews of data to assess safety-related issues on sponsors' request. All materials, discussions, and proceedings of the DSMB are entirely confidential.
Specifically, the DSMB is empowered to:
Advise sponsors on any concerns in relation to vaccine safety.
After review of safety data, recommend to sponsors that further recruitment is continued, stopped, or suspended until further review.
In the case of publication of data, review the safety data.
Current serving DSMB members are:
Mrs. Aisata Doumbia Diarra, Teacher, Bamako, Mali
Dr. Jean-François Etard, Director of Research, Institut de Recherche pour le Développement, Paris, France
Dr. Rebecca Freeman-Grais, Director, Epidemiology and Population Health
Epicentre, Paris, France
Dr. Mrudula Phadke, Vice Chancellor, Maharasta University of Health Sciences, Mumbai, India
Dr. Lorna Renner, Pediatrician and Senior Lecturer, University of Ghana Medical School, Ghana
Photo: Monique Berlier.