Clinical trial: PsA-TT-006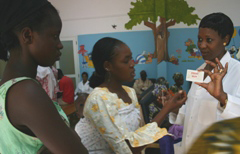 Local monitor Rokiatou Dembele shows a sample trial identification card to potential participants.
This Phase 3 clinical trial in Mali evaluated the safety of a single dose of the meningococcal A conjugate (PsA-TT) vaccine. The study also compared the safety profile of the PsA-TT vaccine with that of a licensed polysaccharide ACWY vaccine. A total of 6,000 participants will be enrolled.
Study title: A Phase III, observer-blind, randomized, active controlled study to evaluate the safety of one dose of a meningococcal A conjugate vaccine administered to healthy subjects 1 to 29 years of age, Bamako, Mali
Primary end point: Safety
Secondary end point: Safety
Study results: No preliminary results are available.
Vaccine manufacturer: Serum Institute of India, Ltd.
Development stage: Phase 3
Country: Mali
Clinical site: Center for Vaccine Development-Mali (CVD-Mali), Bamako, Mali
Principal investigators: Samba Sow, MD
Number of subjects: 6,000 subjects, aged between 1 and 29 years
Start date: 22 February 2010
Date of last subject last visit: 7 January 2011
Status: Completed
International registration number: PACTR ATMR2010030001913177
Photo: Monique Berlier.