Clinical trial: PsA-TT-007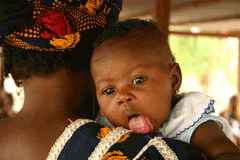 Results from PsA-TT-007 will help identify optimal strategies for the protection of new birth cohorts.
This Phase 3 clinical trial in Mali sought to determine the optimal schedule and formulation of the meningococcal A conjugate (PsA-TT) vaccine for routine immunization before two years of age, in coadministration with Expanded Programme on Immunization (EPI) vaccines. The study also assessed the safety of the vaccine. A total of 1,500 subjects were enrolled.
Study title: A Phase 3, double-blind, randomized, controlled study to evaluate the immunogenicity and safety of different schedules and formulations of a meningococcal A conjugate vaccine administered concomitantly with local EPI vaccines in healthy infants and toddlers
Primary end point: Immunogenicity
Secondary end point: Safety
Study results: No preliminary results are available.
Vaccine manufacturer: Serum Institute of India, Ltd.
Development stage: Phase 3
Country: Mali
Clinical site: Center for Vaccine Development-Mali (CVD-Mali), Bamako, Mali
Principal investigators: Samba Sow, MD
Number of subjects: 1,500 subjects, aged between 9 and 12 months at time of enrollment
Start date: 6 March 2012
End date: Closeout visit held in December 2013
Status: Completed
International registration number: PACTR201110000328305
Photo: Monique Berlier/PATH.