WHO surveillance bulletins
Regular compilation of disease surveillance data by the WHO Intercountry Support Team (WHO/IST), based in Ouagadougou, Burkina Faso, makes it possible to compare the timing and scale of African epidemics in recent years.
The graph below shows all suspected meningitis cases, not just cases due to group A meningococci.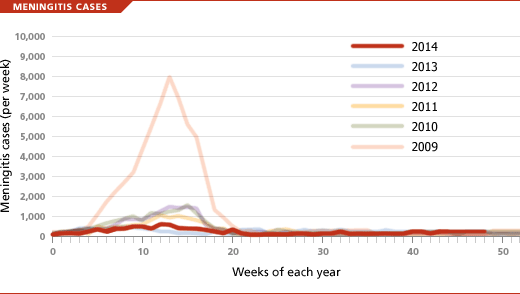 WHO/IST compiles regular bulletins tracking the number of meningitis cases and deaths across African countries under enhanced disease surveillance. Improved surveillance is important because it enables timely detection of epidemics, better use of existing vaccines, better targeting of supplies and treatment strategies, and enhanced documentation of strain distribution throughout the meningitis belt. Enhanced surveillance will also allow us to measure the impact of the new meningococcal A conjugate vaccine after introduction.